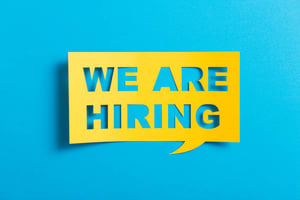 Welcome back to our three-part series on the current challenges faced by small-to-medium-sized businesses. To close out this conversation, we will be taking a look at the formidable issue of recruitment
Recruitment is not easy; arguably more of an art than a science. New technologies and the gig economy have changed the way companies recruit, train, and retain their staff. This fact does not mean there is no value in developing a strategy which defines how your company goes about recruitment. Different companies have different recruitment styles, from the aggressive (hiring people as soon as a vacancy is identified) to the conservative (promoting internally and relying on temporary workers).
One thing every company has in common is that recruitment is required for growth to continue. How we recruit people has changed drastically over recent years, and many business owners are struggling to keep up. For old school businesspeople who started in the days of the Yellow Pages and direct mail advertising, 21st-century recruitment can be challenging.
The two most significant trends to shape small business recruitment have been the rise of new technologies and the expansion of the gig economy. Both have brought advantages and disadvantages, and it falls to small business owners to understand them and to adjust their recruitment strategies.
The impact of new technologies
One of the most significant trends to hit the recruitment industry in recent years is the rise of artificial intelligence (AI) and machine learning (ML). AI makes it easier to process vast amounts of data and to reach conclusions. From the perspective of recruitment, this means machines could soon be better than people are at placing job seekers in the best possible roles, similar to the way Netflix offers viewing recommendations based on the analysis of past viewing history.
There is also a blockchain, which could potentially be used to power recruitment databases. Blockchain is interoperable, decentralized, and is highly secure. It's early days for blockchain, but if such systems were to become commonplace, it could help level the playing field between SMEs and big companies.
The area of most significant technological impact has come from the Internet and social networking. Companies now have access to a global talent pool. This pool is helpful for small business owners because it takes some of the guesswork out of the process.
All companies, especially SMBs, must embrace the full employee lifecycle, remembering the employee journey is not over the day the new person starts. It is critical to pay attention to onboarding, employee engagement, and to support the professional development of each individual. Although there's also no substitute for a genuine, personal connection between people, technology is available to help guide and support the employee experience.
The gig economy
The gig economy and freelancing is not a new phenomenon (see "The State of the Gig Economy"), and have changed significantly over the last decade. Business models like Fiverr, PeoplePerHour, Upwork, Uber, and Airbnb, have diversified the skills that can be used to make money via the gig economy.
These changes provide a massive opportunity for companies to hire temporary talent in the form of gig economy workers. Instead of having to hire full-time employees or working with agencies, companies can reduce total employee costs by outsourcing jobs to temporary workers.
While the gig economy creates many benefits, it can make it more challenging to fill vacancies for full-time positions, especially for highly competitive roles. The very best people can afford to charge more for their services and do not need to work for a specific employer.
Conclusion
Recruitment has always been a challenge for SMBs; it's just that the nature of the challenge has changed over time. There was a time when small businesses had to hire locally, causing problems if there were sudden spikes in demand or if they needed to hire a subject matter specialist. Today, thanks to the gig economy, SMBs can employ people from all over the globe, but that introduces new challenges when it comes to communication.
Fortunately, there are more avenues than ever before for SMBs who are looking to take on new staff or additional resources. Best-in-class SMBs tend to find that people are searching them out and asking to work for them. Social networking sites, employment portals like Indeed and Glassdoor, blogging sites, and more have made SMBs inherently more open. Now people can get a good idea of what it might be like to work for you before they ever apply.
There are pros and cons for SMBs when it comes to recruitment, but they can often outmaneuver larger companies to snare top talent. Many SMBs also specialize in hiring new graduates and training them, providing a stepping stone for them during their career, or promoting them internally as the business grows. The important thing is to make recruitment work for you – and to make sure that you have a plan in place for dealing with the challenges of recruitment as your company continues to grow.
Thanks for reading our three-post series on the current challenges faced by SMBs. We hope that you've found it informative and that it's helped you to prepare yourself for the future better. While we've covered technology, sales and marketing, and recruitment, these are just a few of the different challenges that you'll have to face as you grow your business and guide it into the future.
---
About the author:
Tal Golan (@talgolan) is the Chief Strategy Officer @ Verb Technology Company, Inc.