There are dozens of incredible entrepreneurs who are utilizing the Verb products to grow their business, and we want to share their stories with you.
Today, meet Natasha Hastings: Olympic gold medalist, cosmetics mogul, philanthropist, and all-around warrior. Trust us--you're going to wish you had even a fraction of her energy and motivation.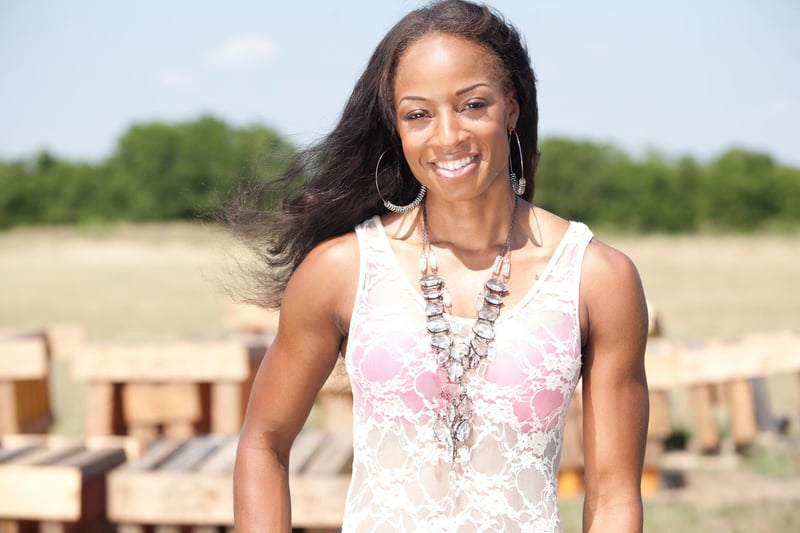 Who is Natasha Hastings?
Natasha Hastings is an Olympic, World, and U.S. National Champion Track and Field Sprinter. She specializes in the 400 and 4x400 meter relay events. Born and raised in New York City, Natasha started running at the age of 9. While a student at A. Philip Randolph Campus High School, Natasha won the 2003 USATF Junior Nationals and the IAAF World Youth Championships in the 400 meters.
Following a successful prep career, Natasha attended the University of South Carolina, where she majored in Exercise Science. As a scholar-athlete at USC, Natasha won both the 400 meters Indoor and Outdoor NCAA Championships her junior year, setting collegiate records in the process. Natasha finished her junior year undefeated in her competitions.
After turning pro in 2007, Natasha made her first USA Olympic Track and Field team in 2008, as a member of the Gold medal-winning 4x400 meters relay team. Additionally, Natasha has made every USA World Championship team since becoming a professional sprinter. In 2007, 2009, and 2011, Natasha won the Gold medal as a member of the 4x400 meter relay team.
Not one to shy away from the Indoor season, Natasha won the 400 meters USA Indoor Track & Field Championship in 2011 and finished second in 2012. She went on to win the Bronze Medal in the 400 meters at the IAAF World Indoor Championships in Sopot, Poland. Although she missed the 2012 Olympic team, Natasha refocused on her personal goals and had an outstanding 2013 season. In 2013, Natasha won her first U.S. National Championship in the 400 meters. In addition to winning the 4x400 meter relay Gold at the 2013 World Championship, Natasha finished fifth in the 400-meter final.
Continuing her successful career, Natasha finished second in the 400 meters at the 2015 USATF National Championship and won a Silver medal with the 4x400 meters relay team at the 2015 World Championships. Making a return to the Olympics, Natasha finished third in the 400 meters at the 2016 U.S. Olympic Trials. After finishing fourth in the 400 meters final, Natasha won her second Olympic Gold medal, running the fastest split, as a member of the 4x400 meter relay team. It would be Team USA's sixth straight gold medal in the event.
While Natasha accomplishes a lot on the track, she knows that rest is just as important as exertion. She also knows how to have as much fun off the track as she does on the track. After she jokingly described the ladies of her collegiate track team as the "Gamecock Divas," in honor of the University of South Carolina's mascot, Natasha became known as the 400M Diva. In addition to her training, Natasha owns a cosmetics company, Natasha Hastings Beauty, and runs a nonprofit called The Natasha Hastings Foundation. And, because there's nothing this Diva can't do, she does it all while being an incredible mom and student (yep, she's currently working toward her Master's in Clinical Mental Health, too).
For a further look into her personality and professional life, Natasha Hastings vlogs on her YouTube channel, Natasha Hastings 400M Diva. Ultimately, as Natasha nears retirement, there is no doubt that she will continue to strive for excellence on and off the track.
Natasha Hastings Beauty
Natasha's cosmetics company, Natasha Hastings Beauty, features highly-pigmented, full-coverage makeup products that are formulated with comfort and long-lasting wear in mind. And, most importantly, they are never tested on animals and are cruelty-free.
The company's current 400M Diva Collection was inspired by the vibrant makeup and hairstyles of Natasha herself. This line features precise lip liners, vibrant, fast-drying lipsticks, and easy to apply mink eyelashes. All the products in this line are highly pigmented, vegan, and never tested on animals. The 400M Diva Collection was designed for women with fast-moving lifestyles who still want a bold expression of their femininity. Its tagline? "Aspire for greatness both inside and out. You don't have to be an Olympian to have a 'Hasty Face.'"
The Natasha Hastings Foundation
The Natasha Hastings Foundation's mission is to "be a starting block for girls to become women of confidence in sport and life." It envisions generations of girls brought up with the confidence to accomplish their deepest desires, who become self-loving women, reaching their full potential and inspiring others. Through initiatives like Tea Time with Tasha, which is intended to create a safe space for girls to ask whatever questions they may have about life in sport, and scholarship opportunities, the foundation is actively working to create a better future for girls everywhere.
How Natasha Uses Verb
Natasha has been actively working with Verb to solidify and modernize her branding, with plans to utilize features like verbLIVE and verbCRM to keep track of marketing materials and connect with potential clients and customers.
"The team at Verb has not only provided me with a platform for my business, but also helped to fill in the gaps for me in the process of entrepreneurship. They have taken a holistic approach to make sure that my business succeeds." - Natasha Hastings
To learn more about Natasha or her many ventures, check out her website here. And, if you're interested in learning how Verb can help you take your business to the next level, schedule a demo today!
---
About the author:
Wife, supermom, foodie and talented critic, Heather Hanson, is a skilled veteran in copywriting, editing, creative writing, and social media outreach. She brings a lot to the table with Verb, and has been recognized by our company as our National Treasure.