The holidays are in full swing, folks. Hanukkah has passed and Christmas is just around the corner. But, if you're panicking about finding the perfect gift for the small business owner in your life, never fear—we've got you covered with this post. It may be too late to Amazon Prime something, but you should be able to find some of the things on this list if you hurry!
So, without further ado, here's the gift guide you've been waiting for: 7 perfect last-minute gifts for small business owners.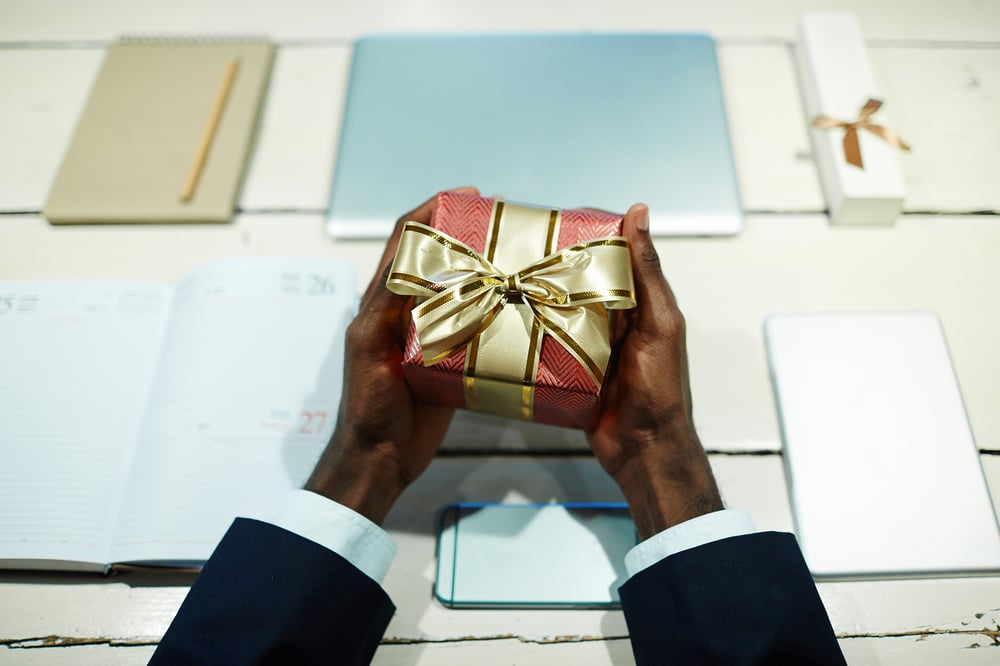 A Software Solution
Being an entrepreneur today looks a lot different than it did even 10 years ago, and a huge part of that is thanks to rapidly evolving technology. There are so many great apps and platforms out there, several of them specifically catered to small business owners, and many of them are reasonably priced. If you have a general idea of some of the biggest struggles your favorite entrepreneur is facing with his or her business, chances are pretty good that you'll be able to find a technological solution.
For instance, if your small business owner is struggling with project management, you can look into setting them up with a Jira plan. Or, if they're looking for a way to connect with potential customers, employees or colleagues in a way that's appropriate for 2020 (read: virtually), consider offering a subscription to a live e-commerce solution. Our verbTEAMS platform now includes verbLIVE, which is a unique and effective way to connect, engage, and sell online, complete with full-scale analytics and completely customizable interactions. (And don't worry, that's the last time we'll offer a shameless self-promotion in this article!)
Card Reader
If your entrepreneur has a brick-and-mortar store, or takes in-person payment in any way, they NEED a card reader. Most modern customers rarely have cash on them, and manually entering card details is a huge waste of time and effort. Products like Square make it easy to manage credit card transactions (and, shhh: Square is actually free to sign up for, so you can look like a hero without denting your pocketbook at all.)
Electronics sanitizer
It's the age of Covid, so we're used to making sure everything touchable is squeaky clean. If your small business owner is using a tablet or smart phone for taking orders and/or managing their business in any way, making sure they have a way to sanitize their electronics in a way that won't harm them is a great way to show you care. PhoneSoap, for instance, is a great product that uses UV Light to disinfect and charge your devices at the same time.
Yoga subscription
It's no secret that owning a business can be hugely draining—not only financially, but emotionally, physically and mentally as well. Encourage your entrepreneur to take some for self-care by gifting them a subscription to a yoga class. The best part? There are a lot of virtual options available, too, which is hugely beneficial when pandemics or other obligations make it difficult to attend an in-person class.
Video-making equipment
As you probably know, we're big advocates of video in marketing, and we think that everybody can make high-quality videos. This (https://blog.verb.tech/best-practices-for-personal-video) post is a great place to start if you're looking for some easy ways to create a professional video atmosphere, but here's the short list of important equipment:
Great lighting: A simple ring light will do, but home improvement stores often carry a variety of professional lighting kits.
Microphone: There are several options for this at varying price points—just consider the fact that you may want to include a pop filter, stand, or both.
Tripod: For added stability, and for making videos when there's nobody else around to hold the camera.
HD Video Camera: A smart phone will work great, as long is it has HD recording capabilities.
Wireless ear buds: Great for video conferencing, making TikToks, or listening to your own voice when recording.
Music subscription
Whether it's used for a background noise while working or something fun to play over the speakers of a store, a music subscription is a great gift for any small business owner. There are several choices to choose from: Spotify Premium, Apple Music, Amazon Music, Pandora, YouTube Music or Tidal are just a few. And since they can all be purchased instantly online, it's a great option for a VERY last-minute gift.
High-quality notebook
There's nothing worse than coming up with a great idea and then forgetting it. Give the entrepreneurs in your life something they'll adore: a place to store their life-changing ideas and make sure nothing gets forgotten. Moleskine is universally loved, but if you're looking for something a little more high-tech, check out Rocketbook's Smart Reusable Notebooks—it's erasable and digitally stored, so your business owner never has to worry about running out of room.
We know finding the perfect gift can be stressful, but hopefully this list has helped take a little of that stress off your shoulders. Let us know if you use any of these suggestions in your holiday shopping! Good luck and happy holidays, from all of us at Verb!
Happy Holidays!
- Team Verb