MARKET was built for sharing stories, because we believe every seller should have the opportunity to tell theirs. That's why it offers sellers the opportunity to interact with their audience in real-time through livestream shopping events. The platform's suite of robust tools helps even small retail businesses to produce TV-quality productions that will draw their audience in and keep them coming back.
The MARKET platform makes creating a storefront a very streamlined process for all sellers. To get started, each storefront submits an online application. The purpose of the application is to ensure your store is a good fit for the MARKET platform and that your store will benefit from being hosted on the platform. Once a seller's store has been approved, they are taken through a step-by-step onboarding process.
Today, we'll go through what a seller's experience looks like when they set up shop on MARKET. If you're on the fence about whether your store will be a good fit for MARKET, you can use this information to help guide your decision.
The Become a Seller Application is your first opportunity to tell your story. When you apply, you will go through five simple steps that will help the MARKET team get an idea of what your store is like. You will be asked to fill out information about your store, including its name, the products you sell, and how long your store has been operating. You'll also receive a summary of terms and be prompted to request a type of package.
Once you hit submit, you'll receive an email confirming your application. At this point, you get to sit tight and wait for the MARKET team to review your application! The team selects storefronts based on whether they feel MARKET is a good location for your store's products and if the livestream platform will be conducive to the products you sell. We welcome all kinds of stores, brands, and products to apply—MARKET hosts a wide range of storefronts, from beauty to sporting goods.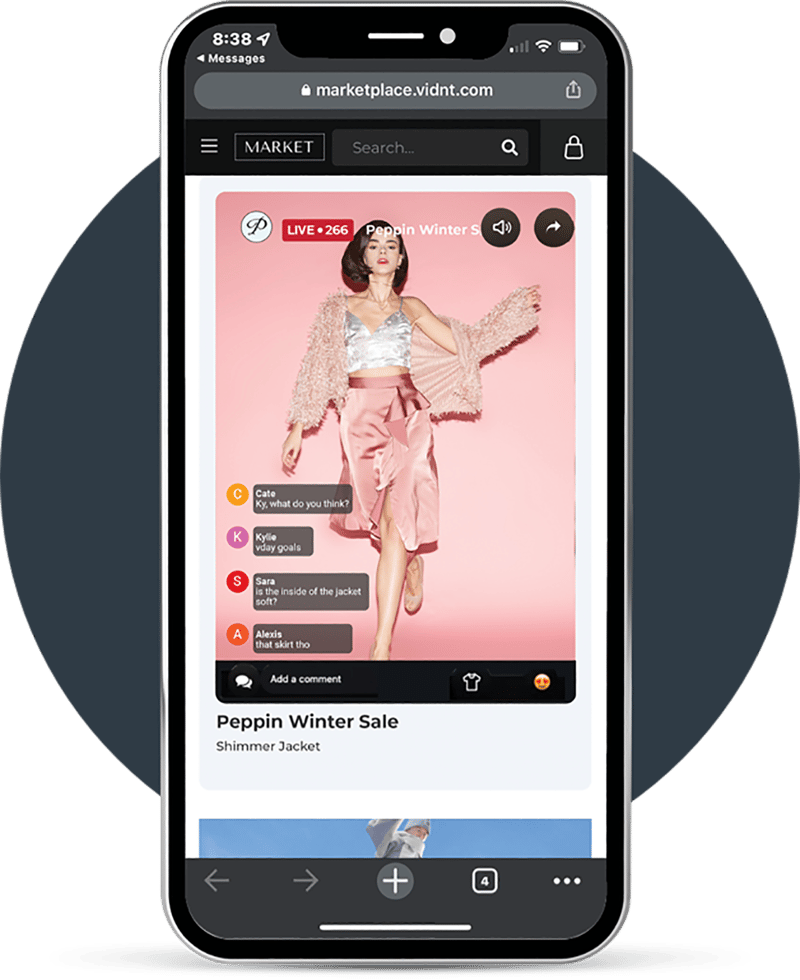 Onboarding
You should receive an email within one to two business days that will tell you whether your application has been approved. Then, you'll be sent a seller agreement to fill out and start the seller onboarding process. You should also receive the onboarding checklist with the items you'll need to log in. These items include a store logo, store banner, products, and a store description for shoppers to see on the MARKET platform.
Once you have the items on your checklist, the onboarding process will go by quickly as you follow the step-by-step guide. Each step will walk you through updating your password, uploading a logo, description, and banners, signing up for your Stripe account (so you can get paid), selecting your subscription package, and adding a payment method. And that's it! Once you've finished the onboarding process, you'll have access to MARKET's features and livestream technology.
Features Sellers Can Access
Each MARKET seller gets access to a high-level selling experience like they've never seen before. With the option to go live in minutes from a phone or multiple cameras, MARKET accommodates any situation or need. Sellers can also add interactive buttons to their stream to improve audience engagement and allow customers to purchase products effortlessly. Shoppers can still make purchases when sellers aren't streaming. Each seller receives a standalone storefront where they can host their shoppable, pre-recorded streams that audience members can browse at any time.
After each stream, sellers can access in-depth analytics that reports audience engagement and purchasing patterns. This information can help sellers make data-driven decisions so they can improve their streams each time.
MARKET is a hub that brings shoppers and sellers together to explore and experiment, which means sellers get access to a fresh audience when they join MARKET. It's a seller's chance to connect with people from around the world and make their products meaningful to a large audience. MARKET is a movement, and we'd love for you to join us.
So, what's next for your store? If you're as excited about MARKET as we are, we want to see your application! Once you're set-up, you can start uploading products and selling them live!
The MARKET team is always excited to help new sellers on board. If you are interested in becoming a seller, submit an application here and our team will be in touch. See you on the live screen!