New year, improved me.
The new year is right around the corner, and with that brings the unattainable idea of "new year, new me". You might as well stock up on your favorite holiday cider now and start the slow grieving process that will eventually (you know it will) come along with the realization that you will not magically transform on the first stroke of midnight in 2019. Let's be real Cinderella. Transformation takes planning, work, and goals, especially when talking about the marketing used to promote your business.
Lucky you because here at nFusz, we are not trying to take what you've already accomplished with your marketing strategies and turn it into something different-something that doesn't feel like you. This upcoming year should be about "new year, improved me."
That's why we want to introduce you to Promo Video, a visual content platform that allows you to be you. Why are we doing this, you ask?
nFusz's notifiCRM is one tool to boost your return on investment, but we want you to be able to maximize your marketing capabilities on a lean budget with Promo Video while understanding how the video is impacting marketing, with nFusz. Put an end to spending the absurd amount of money and time required to produce a video from start to finish. The average cost that goes into creating a single video is at least $500, and that doesn't include the time spent brainstorming ideas and searching for a videographer. If you've ever had a video fail that you've spent this amount of time and money to create, it's probably safe to say you haven't created another one…Promo Video offers a monthly subscription for $99 which includes 8 premium video clips per month and unlimited video downloads with access to millions of ready-made quality clips to choose from, licensed music, and editing tools to customize your video to suit your business.
Let's break this down…That's endless videos, per month!
I'm going to compare this to the way I feel about baking because the juice is never worth the squeeze. So much time is spent thinking about what to bake and navigating through the grocery store for ingredients, just to go back home to start the process, and cross your fingers that your cookies turn out. It's doable, but half the time your Pinterest-driven project ends up looking deformed, tastes like butter, and requires double the amount of time and effort you would have spent just making that trip to the grocery store for the ready-made cookies that consistently taste perfect, saves you time, and money.
Promo Video is your ready-made cookie that allows you to skip the hassle and expense of creating video from scratch, by enhancing what you do with your time and money through access to millions of instant video clips, along with templates, and footage.
In our fast-paced digital world, becoming repetitive and stale with video content just isn't an option; people want to see fresh new content. According to Statista, the average Instagram user spends only 3.1 minutes on the app per session, and 4.9 minutes on Facebook. The window of opportunity to be seen is short, so businesses must get new information out frequently enough to make it into a user's feed before they exit the app. If you think the same old three videos that you've been circulating for half the year, and spent nearly $2,000 on, will cut it- you're wrong.
How Promo Video works:
Choose your content
You'll have access to a video library filled with more content than you'll know what to do with. Search "real estate", "family", "fitness", even "appliances". By the way, "appliances" resulted in hundreds of videos ready to edit. You can also search for "Christmas", "Valentines" or "Easter" and get lots of ready-make videos to customize or use as an inspiration for your own creation.
Create
Take the content and make it your own. Add message with professional text animations and match the font style and colors to your brand. You can also add images and videos and combine it with Promo's professionally edited and licensed music, that improve your marketing, but reflect your business.
Now that you've added your high-quality features at Promo Video, head over to nFusz's notifiCRM dashboard to add our features that will begin to instantly give you an idea of how well your Promo Video performs. Insert email icons, a calendar for instant scheduling, or a phone for real-time talk to easily engage with customers while being provided with the analytics needed to drive your business.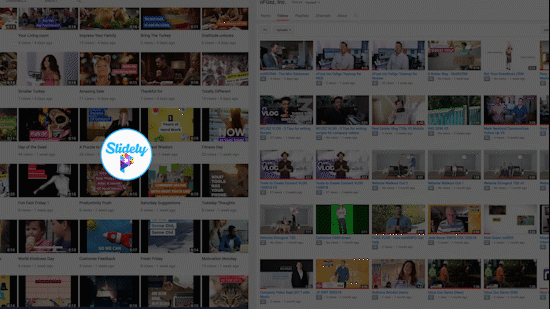 PROMOte + notifiCRM= ROI
Promote on your website and share through your blogs. Post to Facebook, Twitter, and Instagram, there is no limit to what you can do. But don't stop there; the video clips you worked so hard to create are only half of the 'baller on a budge' battle.
Use nFusz's notifiCRM to quantify the success of your work. It's not enough to say, "we're trying." Money is tight, we get it, and it's essential to make sure you are getting a return on your investment. notifiCRM will provide you with answers to questions that might truly make or break your marketing strategies, like, "How are people reacting to this video on the website versus social media?" "Which clips get the highest number of clicks?" "Do viewers watch this video to the end on Facebook?" "Does including video in email generate more engagement?" Without answers to these questions, future decisions are blind guesses because you aren't even aware of who you're speaking to, how, or when.
Instantly connect with customers and most importantly, understand what video content is impacting (or not impacting) your business. These analytics will improve your connections and facilitate engagement.
We want you to go into 2019 feeling improved, that's why we introduced you to another tool we believe will get the job done. Seriously, do yourself a favor and check out the Promo Video experience. You can thank us later!